In this scene of Monterey Harbor, painted sometime between 1945 and 1953, Leplin exhibits his characteristic intensity of color and activity.

This watercolor of an imaginary lighthouse was executed by Leplin in 1970, with the three moveable digits left to his use after his paralysis by polio in 1954. It is one of 40 watercolors he painted without being able to move his hand from the page.

VIEW WATERCOLORS.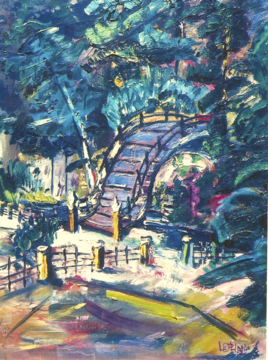 The use of swatches of paint to create the foliage in this depiction of the Japanese Tea Garden Bridge reflects the influence of such Impressionists as Cezanne, whose works Leplin saw firsthand when he studied composition and conducting with Milhaud and Monteux in France.

This entrance to the Japanese Tea Garden shows the Old DeYoung Museum in the background. The swirling pattern of the tree on the left was used much later, in a painting of Carmel Mission.

VIEW MORE OIL PAINTINGS